We develop and manufacture ultrasonic transducers in a specialised field of sensor technology. This requires excellently trained, motivated employees who work hand in hand with a team of technically experienced engineers. In addition to the production of first-class transducers for our customers, new developments and close communication with the customer, an open, family-like corporate culture and a sustainable approach to our environment are important to us.
We live these guiding principles in our daily work.
Principle 1: "Precision & Innovation"
We live and breathe precision – from development and series production to final inspection. We focus on high process stability and tightly toleranced parameters. Our highly motivated employees manufacture our ultrasonic transducers in outstanding quality. A one hundred percent final inspection is then carried out on each of our products. In this way, we ensure that every ultrasonic transducer that leaves our premises fully meets all customer specifications and our own quality standards.
For us, innovation means being one of the leading manufacturers of ultrasonic transducers on the market. Our customers use our products for diverse and complex applications. In addition to our standard transducers, we primarily manufacture individual, customer- specific products. For almost any measuring task, our experts will develop an appropriate solution with you. We are happy to take on the pioneering role and dedicate ourselves to the development of new technologies.
Principle 2: "Inspiration & Customer Proximity
Let yourself be inspired by the numerous advantages and diverse areas of application that ultrasonic technology offers you. We regard novel measurement tasks and complex issues as an enriching challenge that often leads to the development of promising, future-oriented products. We are also happy to take care of technically demanding special solutions. 
For us, customer proximity means responding to your individual needs through constructive communication and an intensive exchange of ideas with you. Our aim is to react flexibly and quickly to our customers' wishes. In close cooperation with you, we manufacture high-quality and competitive solutions that contribute decisively to your advantage on the world market.
Principle 3: "Sustainability & Future"
Sustainability and the future are a core theme of our work. Our goal is to keep our reliable and motivated employees in the company for the long term. The well-being of our committed colleagues is just as important to us as the compatibility of family and career. In addition to a flexible flexitime model and performance-related pay with profit sharing, we offer comprehensive company health management. 
The conservation of resources and the sustainable use of renewable energy technology are also particularly important to us. For example, we cover a considerable part of our electrical energy needs at both production sites with photovoltaic systems. In addition, we use gas heat pumps for cooling and heating. Our company buildings comply with the requirements of the current Energy Saving Ordinance and thus make a direct contribution to environmental protection.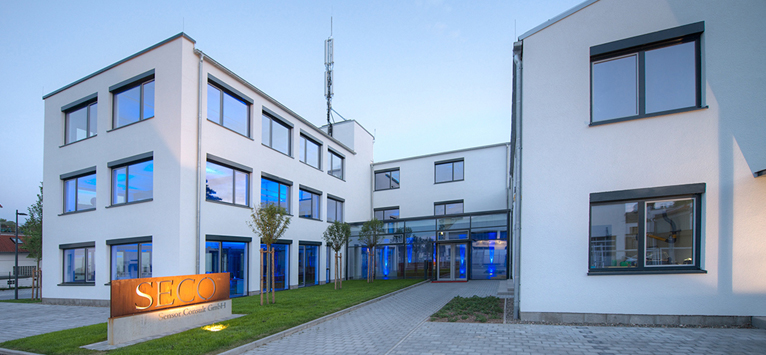 Coburg
Since the company was founded in October 1996, we have been based in the Coburg Technology Centre – initially as a subtenant, and in recent years as the main tenant. As our success grew, so did our need for space. So at the beginning of 2014, we moved with our team of employees into a core-renovated industrial building. The new premises with a total area of 2000 m2 were specially tailored to our organisational and technical requirements.
Küps
Since the beginning of 2004, SECO Sensor Consult has been operating a second production facility in Küps (Kronach district). In spring 2013, we opened our new production hall there with over 900 m2 of floor space. The concept of the new building, which was designed in a modern, light-flooded style, was designed by architect Harald Eichhorn.
SECO for Future – Our Environmental Protection & Compliance Policy
Ever since our company was founded in 1996, sustainable and environmentally conscious work has been close to our hearts. We implement this deeply rooted principle internally with an extensive environmental and compliance management and also try to inspire our customers, suppliers and business partners with this idea. Learn more about our sustainability philosophy and support us in building a fair and green future!
​
Our environmental management
We are constantly working to improve our CO2 balance. We already cover a large part of our energy requirements at both production sites via photovoltaic systems and use a gas heat pump for heating and cooling at our second site. In 2022, our headquarters in Coburg will be connected to the city's district heating network, which will enable us to achieve CO2-neutral heating in the future. Of course our buildings at both locations comply with the requirements of the current Energy Saving Ordinance. In addition, we monitor our energy consumption and evaluate it statistically. Our aim is to further reduce the energy requirement per converter produced in the future.
In order to keep our ecological footprint as small as possible, we pay special attention to the amount and routes of our waste. Wherever possible, we strive to reduce waste. We have clearly defined waste paths, and we strictly monitor compliance with them. We separate toxic and non-toxic waste directly where it is generated and have hazardous chemicals and special waste disposed of by a certified company. We collect precious metals, such as gold, silver, copper and tin, and recycle them through competent companies.
Our production areas are equipped with a professional supply and exhaust air system that filters the outside air and provides our employees with clean and fresh air. Harmful exhaust gases, such as those we release during soldering or bonding, are first thoroughly cleaned before the stale air is released into the environment.
Wherever possible, we avoid conflict materials and switch to non-toxic, harmless substances (e.g. lead-free solder). We also pursue this idea when developing new products and selecting the materials needed for them.
Our compliance philosophy
For sustainable and fair corporate governance, SECO lives a comprehensively designed compliance philosophy. We ensure legally and organizationally that our company reliably complies with all laws, standards and internal rules of conduct that affect us. We have summarized our principles in our Compliance Management Manual. We also follow the recommendations of the ZVEI Code of Conduct, which has constitutional status within SECO. Thus, all entrepreneurial activities are aligned with it.
We attach particular importance to a long-term corporate strategy, employee-oriented management, constantly work on the further development of our technology and pay attention to the protection of our environment. We practice the principles of a prudent businessman, clean business practices, fair competition and have clear rules against corruption and bribery. Adherence to these compliance principles is ensured by a specially established compliance staff unit, as well as an internal control system and annual training for all employees.
At SECO, human rights and the health of our employees are among our top priorities. We respect data protection and keep personal data locked. Extensive personal protective equipment is available to our colleagues in their daily work. Our production facilities are equipped with modern exhaust air systems and we conduct regular health and safety training. It goes without saying that our company has a zero tolerance policy towards physical, psychological, sexual, verbal harassment and abuse, as well as the right to freedom of association, assembly and expression.
SECO supports fair and equitable working conditions wherever possible. We stand behind a ban on all child and forced labor, which we seek to enforce through our supplier selection process. We pay our employees equally regardless of gender, respect working hours, breaks and vacation days, and provide an additional free 15-minute breakfast break every day.